The Kukirin M5 Pro electric scooter is a new model released in 2023, which is a best option of the commuter electric scooter with beautiful appearance, high performance and cost-effective price crowded the commuter scooter market.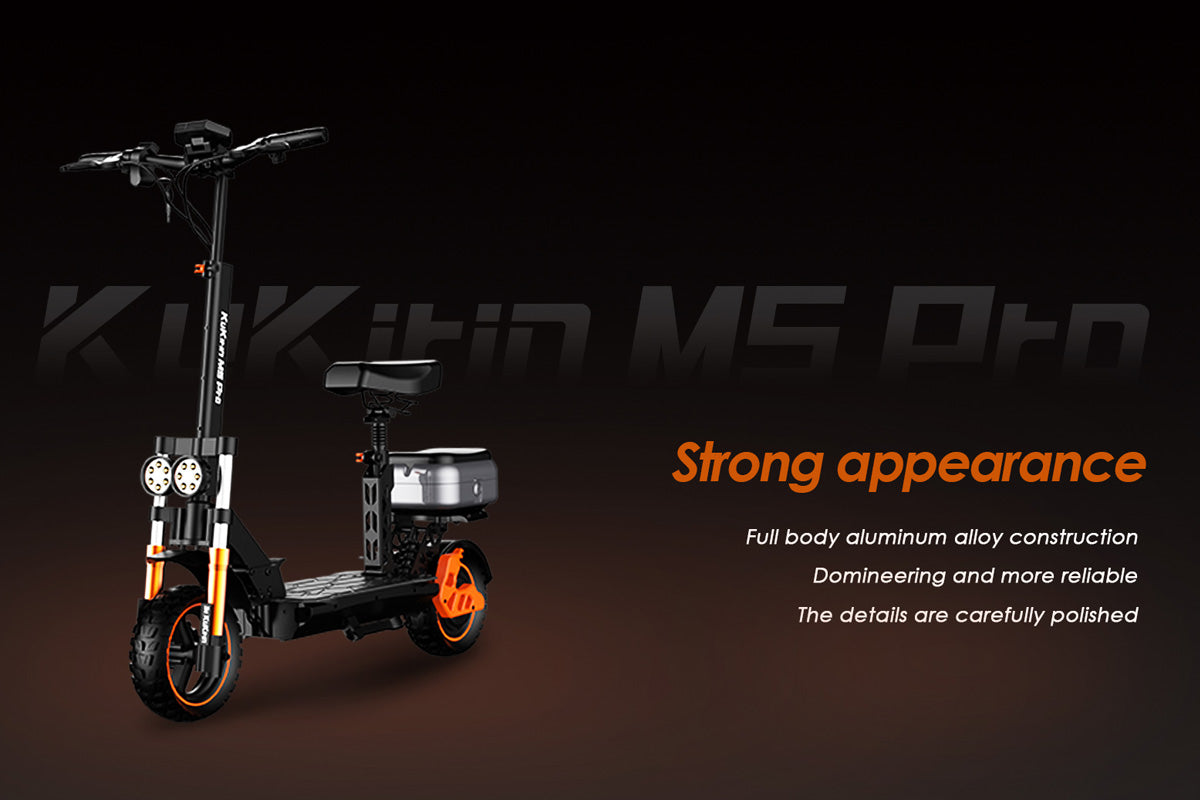 The first impression come to our eyes is the backseat and storage box of the scooter as well as the two large LED headlights that are not often seen on other model of electric scooters. The Kukirin M5 electric scooter is an off-road electric scooter that comes with so many attractive features, beautiful design and powerful function. If you are looking for a commuting scooter that can attract people's eyes and with powerful performance, and the price is around 1000 USD, read on the review before, it will definitely a good selection for you.
Large off-road tires
The M5 Pro electric scooter adopts 11-inch off-road style rubber front tire and 10" rear tire, which best tire pressure is 50psi. It will say no to the rugged roads and give us a stable and comfortable riding experience. There is no difficulty to pass the deceleration strip in high speed, the bumpy ground and sand road.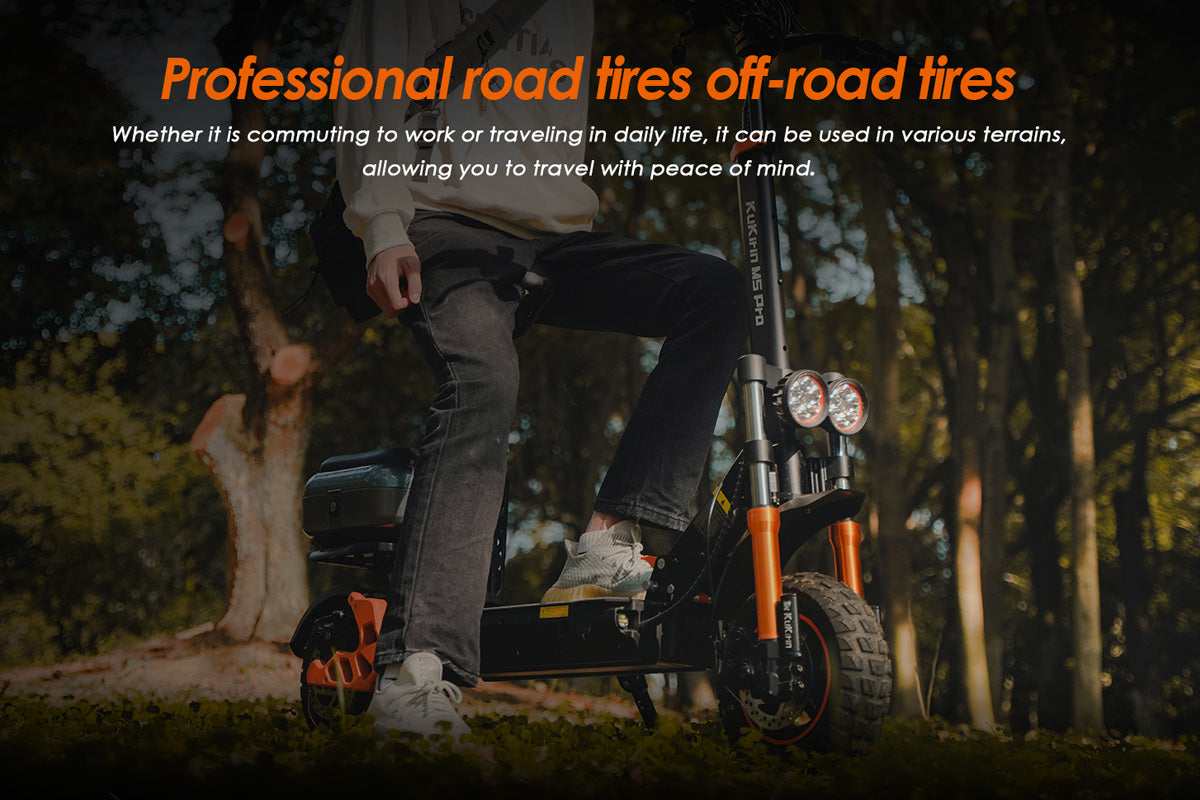 Ultra-wide & long pedal
The electric scooter carries ultra-wide and long pedal, so a removeable saddle can be installed on the pedal and it will have more space to keep your foot on it whether you are standing or sitting when riding the scooter. It is much more comfortable than riding other electric scooters with small pedal.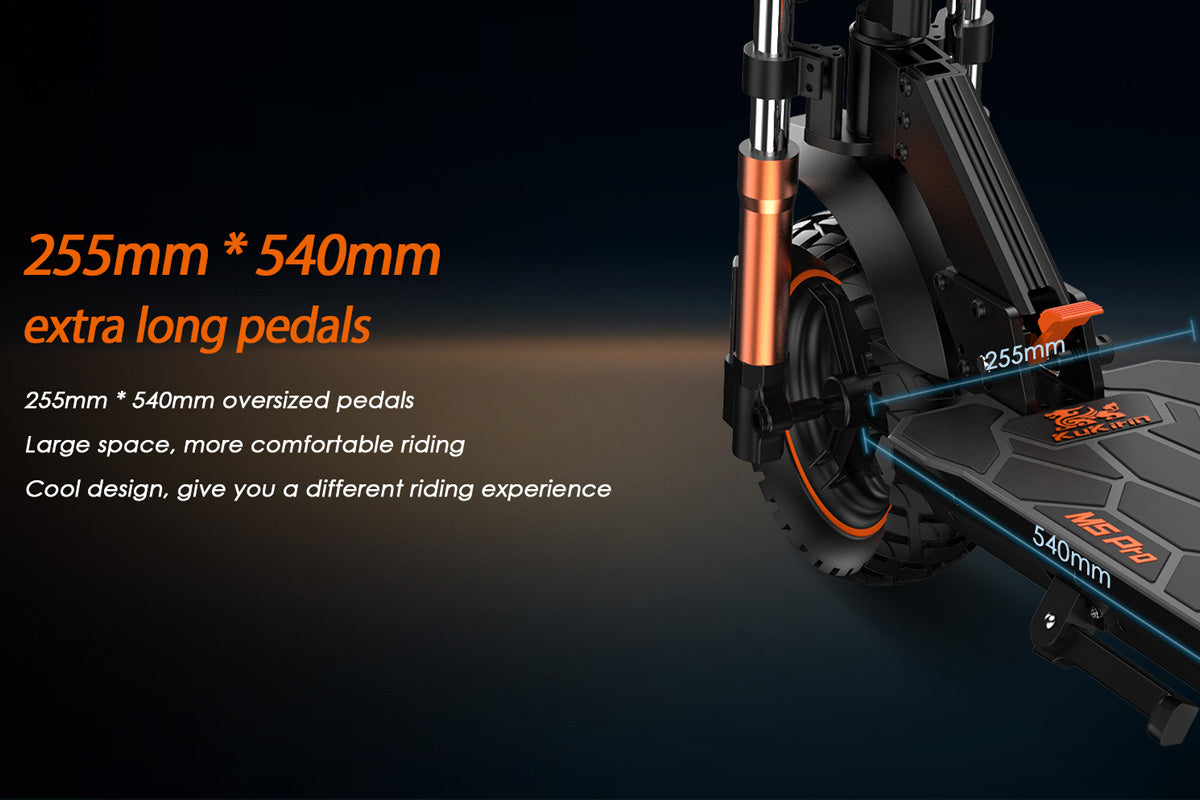 Display
Kukirin M5 Pro electric scooter has an ultra large intelligent LCD display before the rider to show full details of electric scooter status. For example, the current riding speed, the mileage, battery remained, the speed mode you are in, the error code if there is something defective on the scooter, as well as turning signal, headlight symbol, etc. It has 3 speed modes; you can easily switch the speed mode from another. The speed has been tested before shipment by a rider who weighs 65kg and the different speed for the 3 speed modes can reach to 29km/h, 42km/h and 52km/h.
Motor
Equipped with 48V, 1200W powerful brushless motor, and the max instant power is 1350W, Max RPM 1040r/min, Maximum output torsion 30 N.M, the electric scooter supports 52km/h highest speed, 120kg max loading and 15 degree of gradeability. After pressing the accelerator throttle, we can feel the power and speed come out from the motor. Are you ready to experience the thrill of galloping?
Battery
The M5 Pro electric scooter packs a 20Ah large and superior lithium-ion battery. With its continuous high-rate current output capability, the scooter has an up to 70km long range, so no need to worry about insufficient range. There is an original charger with 54.6V output voltage and 2A of output current in the box, and it will take 8-9 hours to fully charge the scooter after it is run out of power.
Back seat & storage box
As mentioned above, the most attractive part of the scooter is the back storage box as well as seat. The storage box carries a big coriaceous cushion, very soft and comfortable to sit on it, and it can carry a weight of 75kg, so you can use the e-scooter to send your kid to school and have fun with carrying your friend on the scooter.
Light system
The electric scooter has dual bright LED headlights installing at a lower place of the front pole, each headlight has 6 lamp beads, with 100W power. It will not only meet the need of riding at night but also keep you safe at night riding. Besides, it also carries a caution light at back wheel and turning light on both sides to call attention to the people around.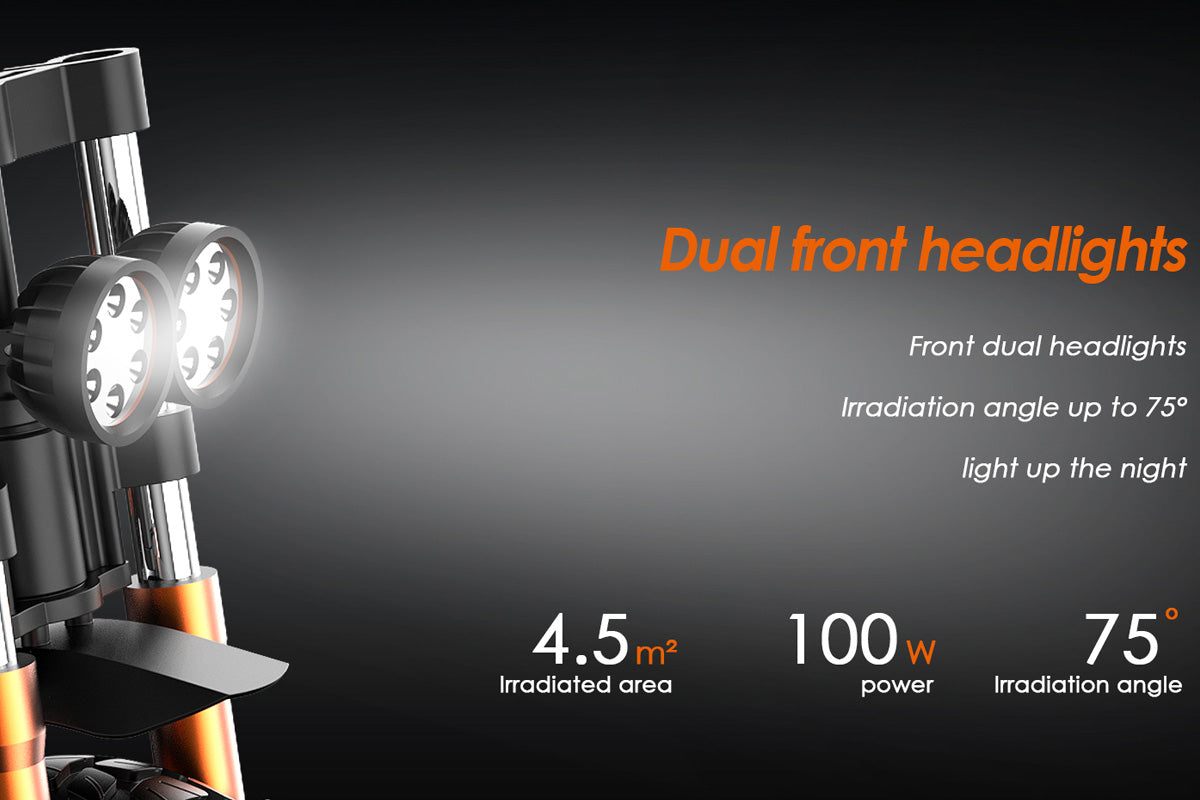 Dual shock absorption system
There is another highlight for the M5 PRO electric scooter, the dual shock absorption system. It has front hydraulic shock absorption system and rear carefully tuned spring damping system. The dual shock absorption system can effectively cushion the bumps caused by difficult terrain and rough roads, giving a comfortable riding experience.
Height adjustable and foldable design
The height of the handlebar can be adjustable, so it will meet the need of different riders, no matter he is taller or not. And the folding is simple and with firmed folding structure, very safe to ride and carry the scooter with you.
Above all, the Kukirin M5 Pro electric scooter is the first e-scooter that packs back seat as well as a storage box, with solid body, powerful off-road motor, dual shock absorption system. It is a very good electric scooter for a budget around $1000. Why not have a try for it?
The Kukirin company also has some other good quality electric scooters, check our previous review post: Kugoo Kirin Electric Scooters Highlights Introduction